A scrotal ultrasound is a safe and painless test that uses sound waves to make images of the scrotum (the pouch of skin at the base of the penis that contains the testicles).
Ultrasonography is the ideal noninvasive imaging modality for evaluation of scrotal abnormalities. It is capable of differentiating the most important etiologies of acute scrotal pain and swelling, including epididymitis and testicular torsion, and is the imaging modality of choice in acute scrotal trauma.
In patients presenting with palpable abnormality or scrotal swelling, ultrasonography can detect, locate, and characterize both intratesticular and extratesticular masses and other abnormalities.
Which ultrasound scanner is most suitable for scrotal ultrasound?
A 12-14 MHz high frequency linear array transducer SIFULTRAS-3.5 provides excellent anatomic detail of the testicles and surrounding structures. In addition, vascular perfusion can be easily assessed using color and spectral Doppler analysis.
In most cases of scrotal disease, the combination of clinical history, physical examination, and information obtained with ultrasonography is sufficient for diagnostic decision-making.
Ultrasonography of the scrotum includes greyscale and color Doppler evaluation of testicles, epididymides, and the scrotum. Spectral Doppler evaluation is performed to demonstrate appropriate waveforms within the testicular artery and vein.
Ultrasound can detect different scrotum abnormalities inclusing, Acute Scrotal Pain and Swelling, Orchitis, Torsion, Cellulitis, Vasitis, Testicular trauma. Further it provides accurate diagnostic of various Palpable Lumps and Incidental Findings. To name a few, Epididymal Cyst, Testicular Cyst, Epidermoid Cyst, Spermatocele, Varicocele, Hydrocele, Microlithiasis, Scrotolith, Adenomatoid Tumor, Germ Cell Tumors, Non-Germ Cell Tumor, …
Ultrasonography remains the first-line imaging modality for evaluation of acute or chronic scrotal diseases. It is a safe and reliable tool for demonstration of scrotal anatomy, localization of testicular lesions and assessment of vascularity.
As several testicular pathologies have characteristic ultrasonographic appearances, ultrasonography is able to appropriately guide patient management and potentially prevent unnecessary surgical intervention.
The examination will be carried out by a medical professional who specializes in testicular ultrasound. This can be a radiologist, urologist, or sonographer.
References: Ultrasonography of the scrotum in adults, Testicular Ultrasound.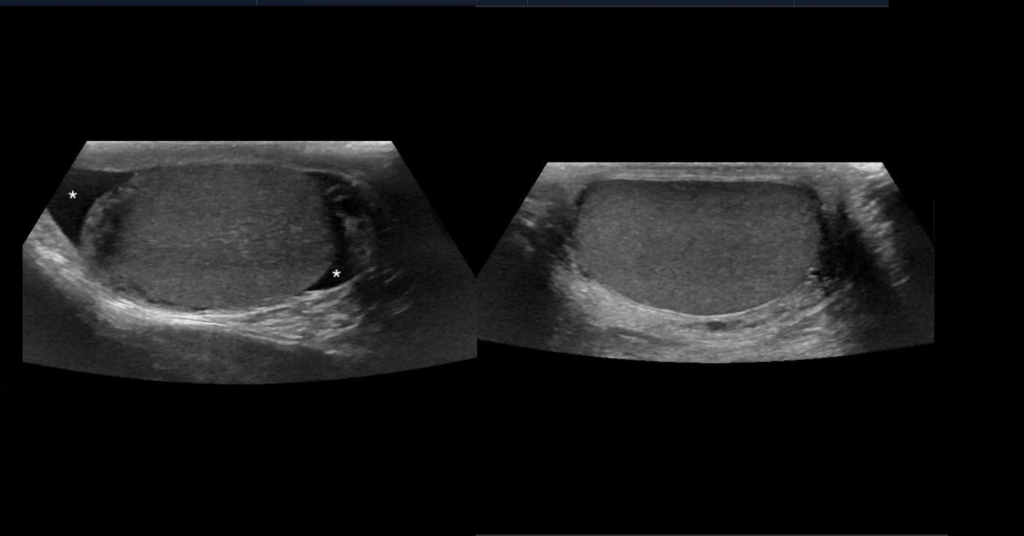 Disclaimer: Although the information we provide is used by different doctors and medical staff to perform their procedures and clinical applications, the information contained in this article is for consideration only. SIFSOF is not responsible neither for the misuse of the device nor for the wrong or random generalizability of the device in all clinical applications or procedures mentioned in our articles. Users must have the proper training and skills to perform the procedure with each ultrasound scanner device.
The products mentioned in this article are only for sale to medical staff (doctors, nurses, certified practitioners, etc.) or to private users assisted by or under the supervision of a medical professional.