Built-in Screen Linear Ultrasound Scanner SIFULTRAS-5.14
Our revolutionary Built-in Screen SIFULTRAS-5.14 is a High-Resolution ultrasound transducer with 128 Elements and a Frequency range of  7 to 10 MHz.
The Linear Ultrasound Probe SIFULTRAS-5.14 comes with a High-Quality Built-in screen, and can transmit the image to a larger iOS or Android Screen using WiFi.
The major advantages of the Wireless Ultrasound Machine SIFULTRAS-5.14 is its dynamic and accurate devaluation of the scanned body organ, compared to its symbolic price.
The Built-In Screen Ultrasound Scanner SIFULTRAS-5.14 is now the imaging modality of choice for evaluating tendon pathology. It has enabled detailed depiction of superficial musculoskeletal structures as well.
Thanks to this device's  Wireless freedom, superior image quality and handiness for quick and accurate diagnosis. It is suitable for many procedures:
Vascular Examinations.
Intraoperative Laparoscopy.
Venipuncture.
Blood Vessel Visualization.
Breast Examinations.
Photo-Acoustic Imaging
The measurement of body fat and muscle thickness (for daily health care checks).
Anesthesia: Nerve Block Procedures.
       Features:
Small and Light: One of the smallest handheld Ultrasound Scanners in the World.
Easy to operate and to carry. 
Dual Screen Vision: Integrated Screen and Smart-Phone or Tablet screen.
Matchable Special Needle Guide For Vascular Puncture.
One-handed Touch Operation.
Auto Measurement.
Waterproof:  Full Sealing Design.
Compatible With: iOS, Android.
Built-in Lithium Battery.
Advanced Digital Imaging Technology.  
       Specifications:
Scan mode: Electronic Linear Array Scanning.
Frequency: 7 – 10 MHz.
Number Of Elements: 128 E.

Image Gray Scale: 256.

Scanning Depth: 20 – 60mm (Adjustable).
Supporting System: iOS, Android.
Display mode: B, Color, PW, Volume.
Frame Rate: B mode 24f/s.
Measures: Distance/ Area/ Velocity/ Heart Rate/ Auto Blood Volume.
Battery Life: 3 hours in B mode.
Size: 150mm×53mm×22mm.
Net Weight: 185 g.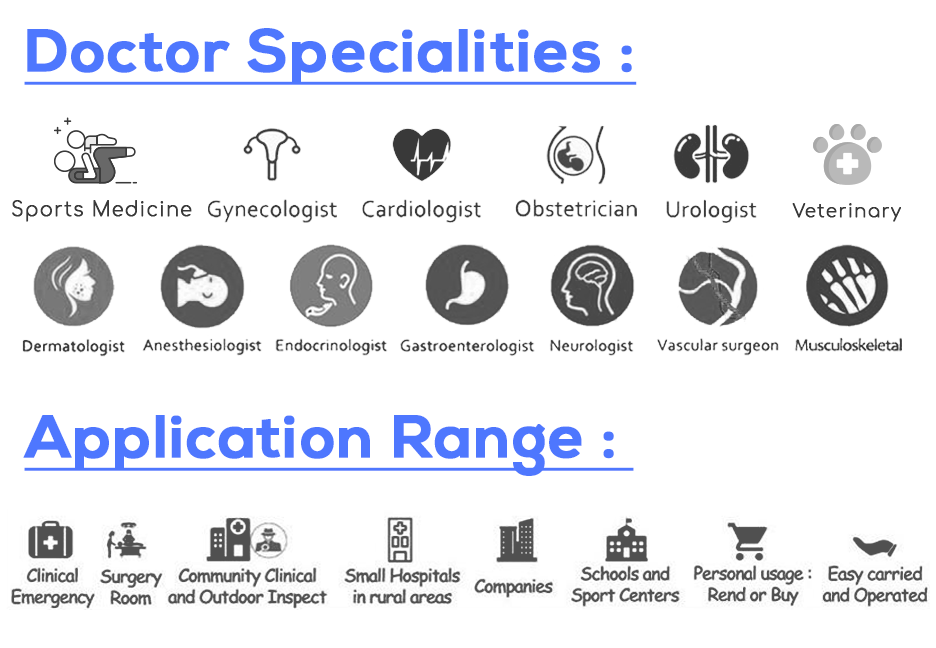 Certifications:
Built-in Screen Linear Ultrasound Scanner SIFULTRAS-5.14.
12 months warranty.










10 × We plant for you ten Trees











× 10 Trees planted for one purchased item
One Tree Planted is on a mission to reforest our planet and provide education, awareness and engagement on the importance of trees in our ecosystem. It also has a social impact encouraging and giving incentive to low income people to plant Trees in their Area.
Reducing carbon footprint : A mature tree absorbs an average of 48 lbs of CO2 per year.
We give you the chance to participate and be part of this noble project. We plant Trees for you for each product you purchase from SIFSOF.
Let's re-Green our Earth together 🙂 



…