Color Doppler WiFi/Bluetooth Linear Ultrasound 
SIFULTRAS-3.0
Color 5-10 MHz Linear Ultrasound Scanner SIFULTRAS-3.0 provides varieties of applications. From everyday clinical practice (post-surgery monitoring, injection guidance, aspirations, vascular access and line placements, biopsy guidance, and emergency medicine). To family self examinations (bladder control, disease monitoring, breast self-exam, fetus viewing and etc.).
It is a handheld medical-imaging device that has made medical ultrasounds significantly cost-effective and more efficient. Same size as an iPhone 6 plus, this compact and versatile new ultrasound device, can be held upon a person's chest, neck, abdomen or any part on the body skin, can create vivid, moving, clear images of what's inside in real time. Color 5-10 MHz Linear Ultrasound Scanner SIFULTRAS-3.0 provides has been used to create an image of internal body structures such as tendons, muscles, joints, blood vessels, and internal organs.
One of its greatest advantages is it can be used without any specific training. SIFULTRAS-3.0 can upload the images to private cloud in real time. And through bank of images, extract key features/characteristics in the images and artificial-intelligence.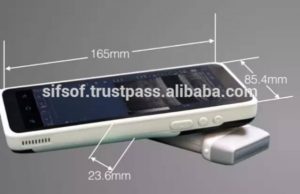 Features:
Unique nano-ultrasound imaging ASIC and circuitry.
1.2GHz Quad-core CPU and GPU.
3G/4G/Wifi communication modem  designed together.
Android software operation system .
Full touch UI, the user can use it just simply touch the icon on the screen to open the specific application for each practice.
high speed WiFi/Bluetooth data connection.
Pocket size medical smart ultrasound scanner with high speed cellular and Wifi data communication  capability.
Clear and rapid imaging for intervention guidance.
Special designed full touch UI for each individual application and easy to operation without special training.
Automatically syncing data to private cloud for telemedicine and mobile telemedicine.
Android sw operation system to make the applications easy for extendable.
Enables ultrasound whenever and wherever necessary.
      Specifications:
   Ultrasound Acoustics:
Imaging mode: B.
Frame rate: >=15 fps.
Transducers: Electronically focused linear probe (5~10MHz).
Element count: 64.
Image depth: <= 6 cm.
Dynamic gain control range: >120 dB.
Video replay: 32 or 64 fps.
   Device Electrical and Mechanical Spec:
CPU: 1.2GHz Quad-core Cotex A9.
OS: Android 4.3.
Display: 6.0 inch with 720*1280 resolution.
Touch screen: Capacitive TP.
Camera: 5M pixels.
Memory: 1/2GB LPDDR2 + 8/16/32GB Flash.
Cellular Network: Optional (3G/4G).
Connectivity: BT 3.0 EDR, WiFi & WAPI, GPS&AGPS.
Radio: Stereo FM radio.
Interface: Micro USB 2.0 HS (w/ charging), 3.5mm audio jack.
Sensor: Accelerometer, P/L sensor, E-compass, Gyroscope.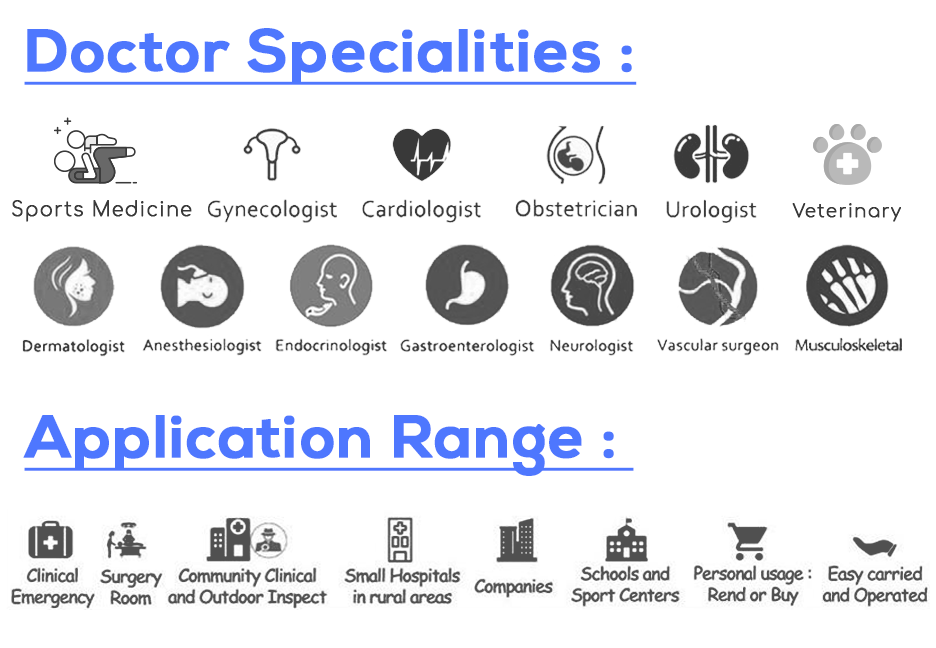 Certifications 
CE
ISO13485
This product is not to be used in The US.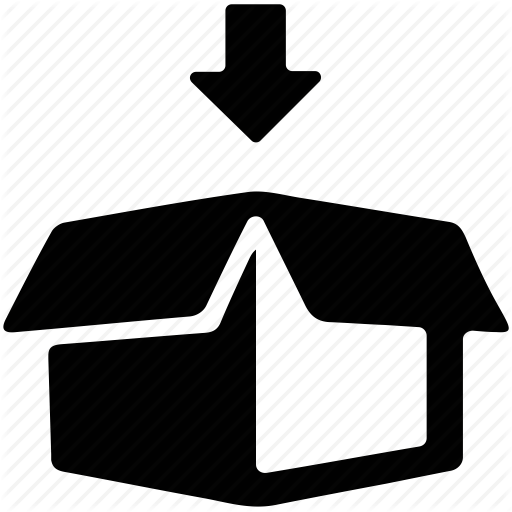 1 × Color 5-10 MHz WiFi/Bluetooth Linear 64E Ultrasound Scanner SIFULTRAS-3.0
1 × User Manual
12 Months Warranty





 
5× We plant for you ten Trees 





 
× 5 Trees planted for one purchased item
One Tree Planted is on a mission to reforest our planet and provide education, awareness and engagement on the importance of trees in our ecosystem. It also has a social impact encouraging and giving incentive to low income people to plant Trees in their Area.
Reducing carbon footprint : A mature tree absorbs an average of 48 lbs of CO2 per year.
We give you the chance to participate and be part of this noble project. We plant Trees for you for each product you purchase from SIFSOF.
Let's re-Green our Earth together 🙂 



 …