Handheld infrared vein finder Handheld : SIFVEIN-4.2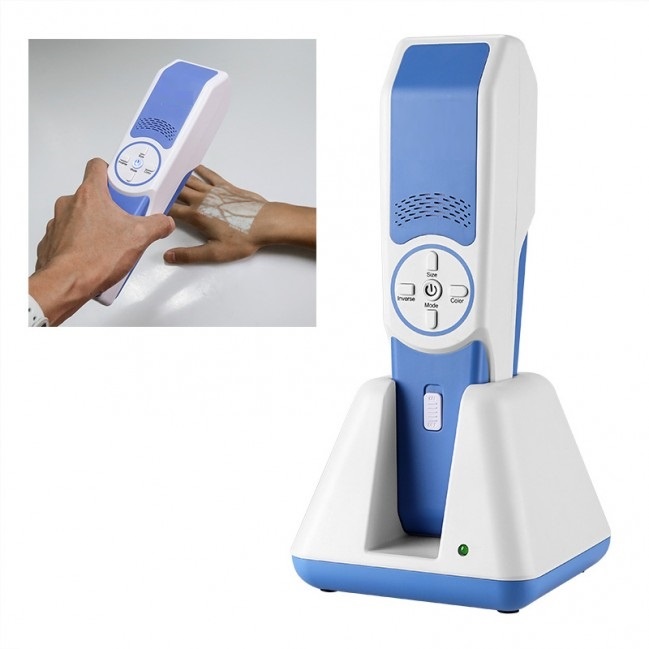 SIFVEIN-4.2 Handheld Vein Finder
Description:
 Our SIFVEIN-4.2 is the handheld version of vascular imaging navigation instruments; The products adopt the design of mobile chassis so that the support structure can easily move;
The products carry large capaciy of Lithium battery compartment to achieve long life. 

The SIFVEIN-4.2 type of products are designed specially aiming to health care staff having mobile requirements and the mobile chassis of the bracket is stable and firm;
Also accessories, such as personalized pushing hands and storage basket, etc. are equipped;
Hover bracket for universal position and multi-joint adjustable mechanisms are equipped with features, for example high flexibility and easy to operate and so on. We suggest the products to be used in medical environments such as wards and emergency rooms, etc. with mobile requirements.
Specifications & Parameters
The main body of SIFVEIN-4.2 handheld vein Finder instruments consists of four parts, including host part, power adapter, charger holder. 
The mobile and fix support is optional for SIFVEIN-4.2
.
Technical Specifications: 
Light type: Near-infrared light
Infrared wavelengths: 850 nm
Image resolution: 720*480
Visible Vein Size: ≥1mm
Accuracy: 0.25mm
Depth of Visible Vein: ≤12mm
Best projection distance: 200±20mm
Image frame rate: 20FPS
LED lifetime: 20000 hours
Power Supply: DC 5V ≤3.5W
Weight: 450g
Dimension: 240x60x60mm (LxWxH)
Battery volume: 4400mAH
Battery working time: ≈ 5 hours
Charging time: ≈ 3 hours
Battery detachable: Yes
Operating Mode: Handheld or Suspension
Advantages

Product Structure:
Hanheld infrared vein finder consists of LED light source, image processing module, battery and case.The case includes function buttonsand indicator lights.
Optimized structure – Easy to disassemble and fold. Smaller and safer package which saving freight cost.
Enhanced image – Clearer vein image, less noises and interference
Safe – Use safe light source, no laser, no radiation
Color image – Clear and accurate
No patient contact – Clear and accurate
Easy to learn and use– no pre-use calibration or adjustments are necessary
Small size – fits in your hand
Works in light or dark – use it in light or darkly lit environments
Applicable to the crowd:
Children
The elderly
Obese patients
Dark-skinned patients
Patients with anemia, hypotension, or excessive loss of blood"
Application Range:
Our SIFVEIN-4.2 is used for Hospital treatment, firefight resscue,Military Disaster relief especially in dim enviroment or in those  enviroment which people can't see clearly.
Certification :
CE
THIS PRODUCT NOT TO BE USED IN THE US MARKET