High Resolution 7 Inch Screen Ultrasound Scanner SIFULTRAS-5.16
The Ultrasound Scanner SIFULTRAS-5.16 is the favorite go-to for Doctors from all types of Medical specialties. Thanks to it's double probe feature, this Portable Ultrasound Machine offers Linear and Convex scanning, that is suitable for Gynecologists, Vascular Surgeons, Urologists, Neuro-Surgeons…
The Ultrasound Scanner SIFULTRAS-5.16 offers an Easy-to-Operate System via touchscreen and assuring its operations effiency being portable. This guarantees the smooth work-flow of nurses and doctors, not to mention, being valuable in Emergency cases…
Besides that, this Device offers USB Connectivity that assures the safe storage of the Ultrasound Scans.
       Features:
Dual Mode Scanning: Convex and Linear.
Light-Weight.
Easy To Operate.
High definition Anti-Glare Display.
Portable, Robust, Battery Operated.
4 Types Of Focusing.
       Specifications:
Scanning: Electronic Linear & Convex Array.
Scanning Angle: 30 to 145 Degrees.
Depth: 24 cm.
Convex Probe Frequency Range: 3 to 5 MHz.
Linear Probe Frequency Range: 5.5 to 10 MHz.
Display Mode: B, 2B, 4B.
Monitor: 7-Inch TDT LCD.
Screen Resolution: 800 x 480.
Weight: 0.8 kg.
       This Device Is Useful For:
1.Gynecology:
Vaginal ultrasound, pelvic ultrasound, or transvaginal ultrasound is used to diagnose growths or tumors of the ovary, uterus, and Fallopian tubes.
2.Cardiology: 
Echocardiography (heart ultrasound) is a common way to evaluate the overall function of the heart. It is used to evaluate the flow of blood through the chambers and valves of the heart. It also assesses the strength of the heart beat and the volume of blood pumped through.
3.Abdominal structures:
Abdominal ultrasound is used to evaluate the solid organs within the abdominal cavity, including the liver, gallbladder, pancreas, kidneys, and bladder.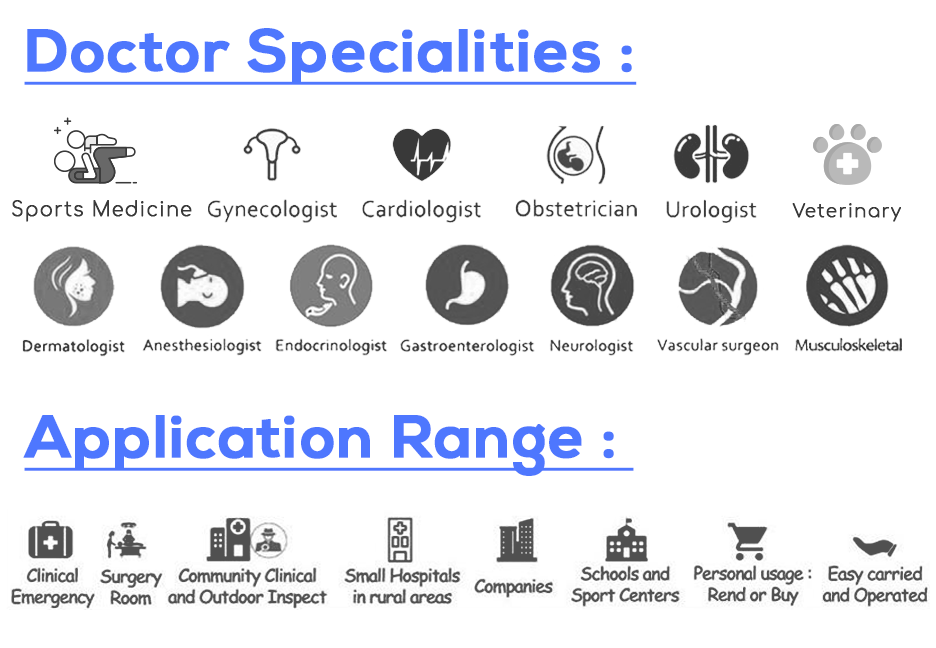 Certifications:
CE.
ISO.
This product is not to be used in the US.
High Resolution 7 Inch Screen Ultrasound Scanner SIFULTRAS-5.16.
12 Months Warranty.











10 × We plant for you ten Trees










 
× 10 Trees planted for one purchased item
One Tree Planted is a movement. Our mission is to reforest our planet, provide education, raise awareness and engagement on the importance of trees in our ecosystem. Above all it has a social impact. Encouraging and giving incentive to low income people to plant Trees in their Area.
Reducing carbon footprint : A mature tree absorbs an average of 48 lbs of CO2 per year.
We give you the chance to participate and be part of this noble project. We plant Trees for you for each product you purchase from SIFSOF.
Let's re-Green our Earth together 🙂 



 …