Desk Type Infrared Vein Finder SIFVEIN-5.1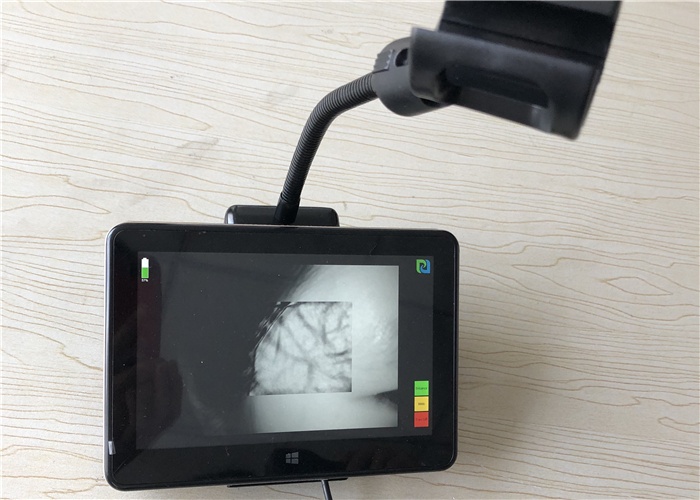 The vein detector SIFVEIN-5.1 vein finder is a special auxiliary device. It helps nurses and doctors in identifying subcutaneous blood vessels during Vein Puncture. Further, the SIFVEIN-5.1 Vein Detector assists medical staffs during intravenous injection. Discover and judge the position and direction of the subcutaneous blood vessels. Especially for the blood vessels which are difficult to find by traditional way. That consequently increases the success rate of the puncture.
The Vein Detector system is a high-tech product. With advanced venous imaging technology. While processing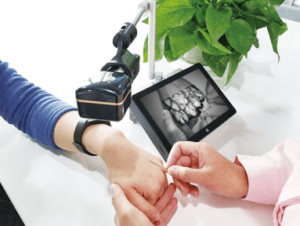 products. We do not only pay attention to quality, but also we pay attention to the functions and effects. Thus, we have been producing a variety of intravenous products. Therefore, different models have different functions and effects. Our products of venous imaging, can display human veins on the surface of the screen accurately and in real-time.
The SIFVEIN-5.1 Vein Finder aids clinicians distinguish the blood vessels. So let's break down how this is done. Infrared images are taken by the vein finder, optimized and highlighted according to the color and shape by professional image processing software, then the pictures are displayed on the 8″ touch screen. Thereafter, the practitioner can clearly see the subcutaneous vascular distribution, location, direction.etc.
      Features:
8 inch touch screen, 960*1280 high-resolution large-screen display.
Professional medical image processing system, blood vessels clearly visible and displayed more accurately
Real and reliable image, close to the visual effect of the naked eye, more suitable for the normal visual habit, no harsh and fatigue feeling in clinical operation.
Visible Needle during puncture, faster, more convenient to target veins, easy to operate..
No artifacts interference by hair, wrinkles, embossment etc…
Portable, equipped with a special stand.
      Specifications:
Item: SIFVEIN-5.1 Vein Finder.
Image model: 8-inch touch-screen.
Wavelength: 850nm.
Imaging technology: 2 million pixels of infrared camera.
Imaging speed: >32 frame/second.
Depth: ≤10mm.
Resolution: 800*1280.
Registration accuracy: <0.2mm.
Best imaging distance: 140-180mm.
Infrared light energy: 0.36w.
Battery working time: 4h.
Charging time: 4-5h.
Stand type: Desk type.
Gross weight: 1950g.
Packing size: 360*310*230mm.
Scan Results:


 Applicable on: 
Infants.
Obese Patients.
Edema Patients.
Patients with Difficult Venous Access.
Patients with poor vascular elasticity.
Patients on Chemotherapy.
Patients with Hypovolemia.
Certifications: 
CE.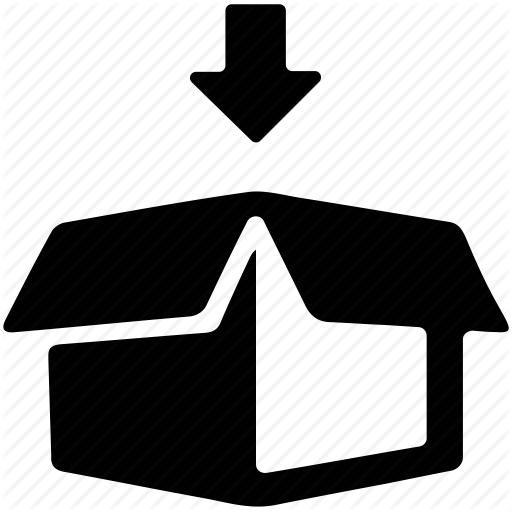 Desk Type Vein Finder, Infrared Transilluminator Vein Detector SIFVEIN-5.1.
12 months warranty.











10 × We plant for you ten Trees










 
× 10 Trees planted for one purchased item
One Tree Planted is a movement. Our mission is to reforest our planet, provide education, raise awareness and engagement on the importance of trees in our ecosystem. Above all it has a social impact. Encouraging and giving incentive to low income people to plant Trees in their Area.
Reducing carbon footprint : A mature tree absorbs an average of 48 lbs of CO2 per year.
We give you the chance to participate and be part of this noble project. We plant Trees for you for each product you purchase from SIFSOF.
Let's re-Green our Earth together 🙂 



 …