Infrared Transilluminator Vein Finder : SIFVEIN-5.1
Description
Vein SIFVEIN-5.1 is a special auxiliary device to help nurses and doctors seeking & identifying subcutaneous blood vessels during vein punture.It assist medical staffs during intravenous injection to discover and judge the position&direction of the subcutaneous blood vessels;especially for the blood vessels which are difficult to find by traditional way,so that improve the success rate of puncture.
The venous imaging system is a high-tech product with the most advanced venous imaging technology, we processed products not only pay attention to quality, but also pay attention to the function and effect. At present, we have produced a variety of intravenous products. Different models have different functions and effects. Our products of venous imaging, can display human veins on the surface of the screen accurately,real-time and clearly.
Working principle 
The infrared light as kind of invisible light widely exists in nature;Such as sunlight,heater etc..
Hemoglobin in the blood absorbing infrared light is different from other organizations;Using certain wavelength of infrared radiation to the skin,hemoglobin in subcutaneous blood vessels will absorb more infrared light,and other organizations of absorption are less,so that we can distinguish the blood vessels and other organizations in infrared images.Infrared image is taken by infrared camera,after optimization and highlightling the color&shape by professional image processing software, then output the pictures.
on the screen or projection methods, we can clearly see the subcutaneous vascular distibution.location.direction.etc.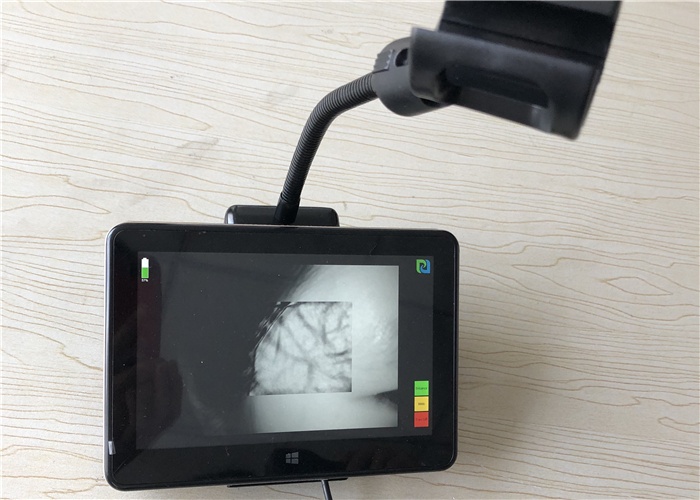 Product Advantages
Large 8inch screen,high-resolution display,more clear image
Professional medical image processing system
Screen display more suitable for human visual habits,no glare and fatigue
Real and reliable image,visual effect more close to naked eye
Needle clearly visible during puncture,easy to operation
No artifacts interference by hair,wrinkles,embossment etc
Delicate and portable,equipped with specified support,suitable for any occasion

Technical Parameters
Item:    Vein Locator Parameter
Image model: 8 inch touch screen
wavelength :850nm
Imaging technology :2 million pixels infrared camera
Imaging speed :     >32 frame/second
Imaging depth  :≤10mm
Resolution :   800*1280
Registration accuracy  :<0.2mm
Best imaging distance  :140-180mm
Infrared light energy  :0.36w
Battery working time  : 4h
Charging time  :4-5h
Stand type:   Desktop
Gross weight  :1950g
Packing size  : 360*310*230mm

Applicable People:
– Infant
– Pediatric Patients
– Obese Patients
– Edema Patients
– Patients with weak perfusion in
– Patients with vascular collapsed
– Patients with poor vascular elasticity
– Patients with multiple chemotherapy
– Patients with blood volume decreased dramatically

Certification : 
CE
This product is not to be used in the US.