Hospital vein viewer, Infrared Vein Finder – SIFSOF – SIFVEIN-4.6
Buy Hospital vein viewer, Infrared Vein Finderonline with
Sifsof.com. This HandheldInfrared Vein Display Instrument is optimal for Hospitals,Clinics, and
Medical institutions applications.
Our vein viewer  can be widely used not only for infants, elderly, and obese patients but also for patients with different skin tones. It detect subcutaneous superficial by pantended infrared light technology, displaying vivid vein map on the surface of skin. It helps Medical staff find vein's location and reduce needle stick attempt.
For a variety of patients:
SIFVEIN-4.6 provides a significant help for patients with vascular positioning difficulties such as obesity, swollen tissue, hairy skin, dark skin, hypovolymia.. It assists medical staff to locate and find veinsquickly and accurately during I.V.. and it can increase the success rate of I.V., relive Nurses' work pressure and reduce the patient's fear and pain and improve the  quality of Medical services.
It detects subcutanious superficial vein by infrared light of research of development patent technology, displaying situ image on the surface of the skin in order to hel medical staff to check vascular's orientation and distribution.
The vein viewer uses strong infrared light to detect dorsal venous rete of hand, so that health care workers can easily see the blood vessels and achieve successful injections.
Properties:
1 Wide range of brightness control2 Infrared inductive switch, safe and electricity-saving
3 User-friendly ergonomic design of working system
4 Rechargeable and detachable batteries are convenient for moving situation
5 Compact and light. Easy carry and use in different kinds of situations.

SIFVEIN-4.6  is  useful with a variety of patients :
Medical professionals know that venipuncture can be particularly challenging in some patients. Those with difficult venous access (DVA) can include:
The elderly
Dark-skinned patients, whose veins may not be visible
Obese patients, whose veins may not be visible or palpable
Patients having many diagnostic or therapeutic intravenous procedures
Burn victims
Agitated or restless patients
Oncology patients on chemotherapy
Drug abusers
Babies 
 Our Vein Illumination System  can  present  vein Image  accurately and clearly  on  the  surface  of the skin through its advanced patent technology using infrared light to detect subcutaneous skin. We are the first manufacturer of direct projection vein illumination system in China. It is most safe and convenient product ever. 
The main function of this instrument is to assist medical staff to locate veins quickly and accurately during venipuncture, especially for the patients with obesity, edema, dark and hairy skin which is difficult to find vein. This instrument could relieve pains of patients and also improve the relation between hospitals and patients.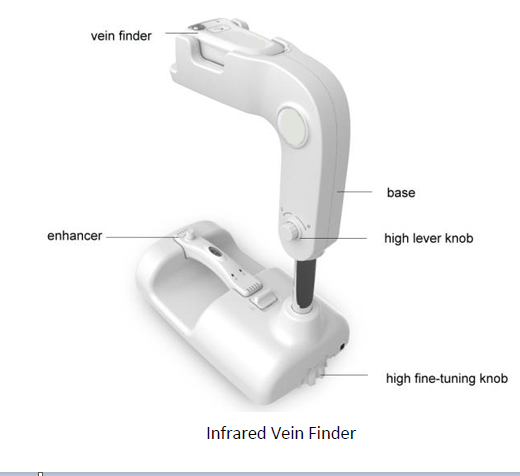 Technical specifications:
| | |
| --- | --- |
| Effective positive projection distance: | 29cm~31cm |
| Light projection: | 300lux~1000lux |
| Active radiation contains wavelength light:         | 750nm~980nm |
| Electrical source: | lithium ion polymer batteries |
| Service voltage: | d.c.3.0v~4.2v |
| Net weight: | 0.28±0.02kg |
| Prevent into the liquid level: | IPX0 |
| Product size: | 80x75x16 mm |
| Gross Weight: | 1.5kg |
| Packing size: | 22*26*30cm |
Dimension:                                                                             80x75x16mm
Advantages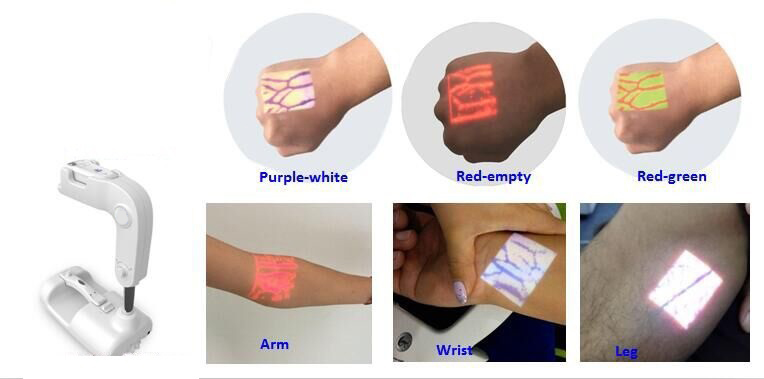 Application Range:
Our SIFVEIN-4.6 is used for Hospital treatment, firefight resscue,Military Disaster relief especially in dim enviroment or in those  enviroment which people can't see clearly.
Certification : 
CE
This product is not to be used in the US.