Light handhold vein finder, vein viewer clinical needle placement instrument SIFVEIN-4.4
Product Description:
Product Name

Popular light handhold vein finder

Product No.

SIFVEIN-4.4

Material

eco-friendly plastic

Specification

Popular light handhold vein finder, vein viewer clinical needle placement instrument

3.5*19cm

Weight

≤ 0.2kg

Application 

Schools, hospitals, clinics, exhibitions

Language

English or customer requirement

Packing

30pcs/carton

For a variety of patients:
SIFVEIN-4.4 provides a significant help for patientswith vascular positioning difficulties such as obesity, swollen tissue, hairy skin, dark skin, hypovolymia.. It assists medical staff to locate and find veinsquickly and accurately during I.V.. and it can increase the success rate of I.V., relive Nurses' work pressuren reduce the patient's fear and pain and improve the  quality of Medical services.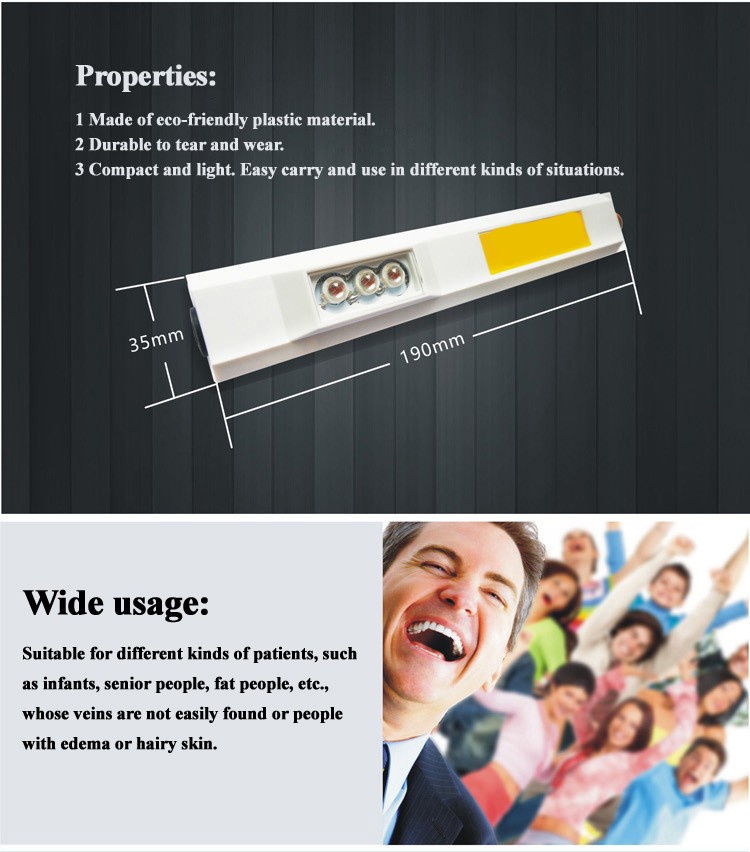 The vein viewer uses strong infrared light to detect dorsal venous rete of hand, so that health care workers can easily see the blood vessels and achieve successful injections.
–> Features :
–Effective  : Enables to perform promptly vascular treatments and procedures for the patients
–Accurate  : Enables to choose the right blood vessel based on real-time video of the blood vessel
–Precise     :  Helps prevent repetitive and wrong injections
–Patient types : Can be used with various patients such as infants and obese patients regardless of their skin tones
–Non-contact  : Because the device has been designed not to come into contact with the patient, the device may not require sterilization between uses
–Movement tolerant : Because the device shows the veins in real time, the device can accommodate patient movement,
when operated properly, a critical feature for venous access procedures performed on children and restless or combative patients.
-Decrease unnecessarily repetitive injections : Increase the safety and satisfaction of patients as well as the work efficiency of professionals in hospital.
– two kinds of imaging Modes: : blue & white, red& green, one-click switching freely
– Image Performance optimization, adjustable brightness, high accurate
-Medical cold light, safe for your eyes
-Sleep Function, more confortable operation
– Elegant design, easy to carry.
SIFVEIN-4.4  is  useful with a variety of patients :
Medical professionals know that venipuncture can be particularly challenging in some patients. Those with difficult venous access (DVA) can include:
The elderly
Dark-skinned patients, whose veins may not be visible
Obese patients, whose veins may not be visible or palpable
Patients having many diagnostic or therapeutic intravenous procedures
Burn victims
Agitated or restless patients
Oncology patients on chemotherapy
Drug abusers
Babies 
Advantages

Product Structure:
Hanheld infrared vein finder consists of LED light source, image processing module, battery and case.The case includes function buttonsand indicator lights.
Optimized structure – Easy to disassemble and fold. Smaller and safer package which saving freight cost.
Enhanced image – Clearer vein image, less noises and interference
Safe – Use safe light source, no laser, no radiation
Color image – Clear and accurate
No patient contact – Clear and accurate
Easy to learn and use– no pre-use calibration or adjustments are necessary
Small size – fits in your hand
Works in light or dark – use it in light or darkly lit environments
Application Range:
Our SIFVEIN-4.4 is used for Hospital treatment, firefight resscue,Military Disaster relief especially in dim enviroment or in those  enviroment which people can't see clearly.