Multi-Head 13 Inch Screen Ultrasound Scanner
SIFULTRAS-4.8
SIFULTRAS-4.8 is a specialized ultrasound unit, dedicated in each subdivision segment. With its extremely lightweight case, smart design and built-in customized workflow. The Ultrasound Scanner SIFULTRAS-4.8 provides more efficient and convenient experience for musculoskeletal, pain management, physical therapy and vascular.
The Ultrasound System SIFULTRAS-4.8 is an accurate and reliable Built-In Screen ultrasonography machine.  Thanks to its 13 Inch Touch Screen, the device is easy to operate and is extremely Light-Weight.
Besides that, this Built-in Screen Ultrasound Machine comes with different types of probes, Convex, Phased, Cardiac and Linear array… Making it the Go-To Device for a wide variety of Doctors, like Cardiologists, Vascular Surgeons, Obstetricians, Gynecologists, Neurologists…
      Ultrasound System SIFULTRAS-4.8: 
     Best in Detail Tissue Imaging:
The Screen Ultrasound Scanner SIFULTRAS-4.8 was built on Holo platform, which has 64-beam processing and achieves up to 5000 frames per second. Along with image fine tuning according to MSK and pain management request. Ultrasound Scanner SIFULTRAS-4.8 is able to provide not only the whole field best in detail image quality but also highlight the display of bones, muscles and nerves.
      Needle Intelligent Needle Visualization Technology:
The most challenging work during procedure is always distinguishing the needle from tissue. The ultrasound system answers this by providing a very intelligent Needle feature. Needle automatically recognizes the needle, then steersultrasound beam perpendicular to needle, and enhances the needle display.
      Flexible style, more possibility:
       Features:
Built-In 13 Inch Touch Screen Ultrasound .
Easy To Operate.
Extremely Light-Weight.
Built-In Storage Tray.
Comes With Table-Supporter.
Adjustable Height.
Broad Set of Transducers.
Hockey Stick Probe (For Small Joint and Superficial Scannings).
      Ultrasound Scanner SIFULTRAS-4.8 Application Scope:
Cardiology.
Radiology.
Internal Medicine.
Small Body Parts.
General Imaging.
Vascular Surgery.
Intensive Care.
MSK.
ICU.
Emergency Medicine.
       Specifications:
Screen: 13.3 Inch Touch-Screen.
Frame Rate: 5000 frames/second.
Extra Adapter: Up to 3 Ports.
Probe Buttons: 3 Buttons.
       Scan Results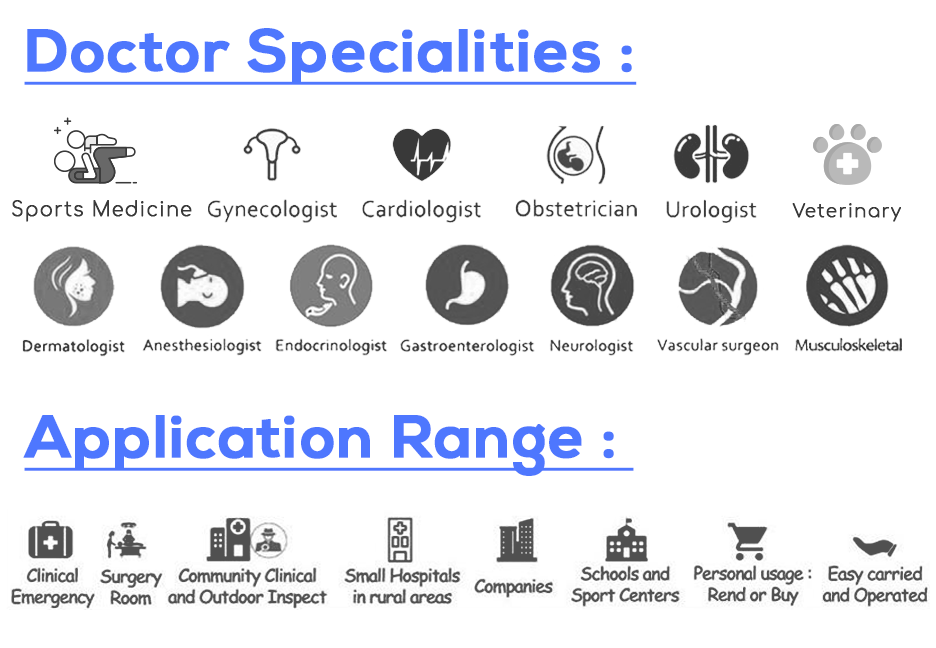 Certifications:
CE
ISO13485
This product is not to be used in the US.
Multi-Head 13 Inch Screen Ultrasound Scanner SIFULTRAS-4.8
Extra Probes (Optional)
12 Months Warranty