New Portable Hospital Clinic Equipment Infrared vein viewer  SIFVEIN-4.1
Description:
     1.Our vein finder device is no heat, no radiation, portable, reliable, and cheap.
This device has rechargeable lithium battery and passed CE test, which is safe and convenient to charge.

It help nurses and doctors find veins easily and quickly, to reduce patients repetitive painful needle sticks.

Suitable for adults, pediatric, infant, old men, fat men, who can not easily find veins.  

Suitable for hospitals, pediatric clinics, outpatient clinic/center, clinical laboratory, blood bank/center, military,medics unit, the CDC, rehabilitation center, nursing homes and others.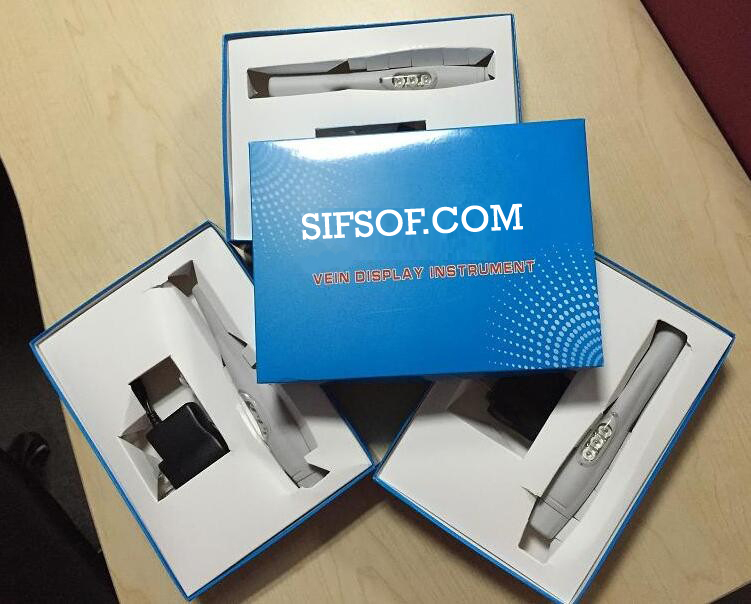 –> Features  :
-Effective  : Enables to perform promptly vascular treatments and procedures for the patients
-Accurate  : Enables to choose the right blood vessel based on real-time video of the blood vessel
-Precise     :  Helps prevent repetitive and wrong injections
-Patient types : Can be used with various patients such as infants and obese patients regardless of their skin tones
-Non-contact  : Because the device has been designed not to come into contact with the patient, the device may not require sterilization between uses
-Movement tolerant : Because the device shows the veins in real time, the device can accommodate patient movement,
when operated properly, a critical feature for venous access procedures performed on children and restless or combative patients.
-Decrease unnecessarily repetitive injections : Increase the safety and satisfaction of patients as well as the work efficiency of professionals in hospital.
– two kinds of imaging Modes: : blue & white, red& green, one-click switching freely
– Image Performance optimization, adjustable brightness, high accurate
-Medical cold light, safe for your eyes
–Sleep Function, more confortable operation
– Elegant design, easy to carry.
Specifications: 
Product size: about 190* 35*35mm

Working Voltage: 5.0V~8.4V

Working Current:  0.98A~1.12A

Illuminance: 26000lux~27000lux

Charger type: US plug charger
SIFVEIN-4.1  is  useful with a variety of patients :
Medical professionals know that venipuncture can be particularly challenging in some patients. Those with difficult venous access (DVA) can include:
The elderly
Dark-skinned patients, whose veins may not be visible
Obese patients, whose veins may not be visible or palpable
Patients having many diagnostic or therapeutic intravenous procedures
Burn victims
Agitated or restless patients
Oncology patients on chemotherapy
Drug abusers
Babies 
Advantages

Product Structure:
Hanheld infrared vein finder consists of LED light source, image processing module, battery and case.The case includes function buttonsand indicator lights.
Optimized structure – Easy to disassemble and fold. Smaller and safer package which saving freight cost.
Enhanced image – Clearer vein image, less noises and interference
Safe – Use safe light source, no laser, no radiation
Color image – Clear and accurate
No patient contact – Clear and accurate
Easy to learn and use– no pre-use calibration or adjustments are necessary
Small size – fits in your hand
Works in light or dark – use it in light or darkly lit environments
Applicable to the crowd:
Children
The elderly
Obese patients
Dark-skinned patients
Patients with anemia, hypotension, or excessive loss of blood"
Application Range:
Our SIFVEIN-2.1 is used for Hospital treatment, firefight resscue,Military Disaster relief especially in dim enviroment or in those  enviroment which people can't see clearly.
Usage Instructions: 
Turn on the rotary switch.
Hold the light bulb with palm. Now the vein finder is sending light,
Rotate the rotary switch, adjust the strength of light, the veins are visible(The more dark it is, the better effect it is).
After vein puncture, turn off the rotary switch.
Certification : 
CE
This product is not to be used in the US.
Package included:
1 x Vein finder device
1 x US plug charger