Portable Vein Viewer SIFVEIN-6.1
The SIFVEIN-6.1 vein viewer  is designed to improve vascular access treatment standards and provide the highest possible quality in patient care. The vein locator is non-invasive electronic visual aid device designed to project an image of superficial, subcutaneous vascular structures on the surface of the skin.
As an auxiliary high-tech equipment, It makes the vein visualization with its safe and innovative NIR technology. It is economic and its battery lasts up to 4.5 hours. In addition, with its default 3 working modes such as Basic mode, Green light mode, Depth detection mode. Clinicians can use with its different modes in their daily work flexibly.
Further the vein viewer SIFVEIN-6.1 with its unique Depth Detection Mode. Under this mode, clinicians can be told the depth of veins to perform vascular access easily under its quality images. The vein detector detects vascular depth by pseudo-color display. Furthermore, it is Photobiologicaly safe as the infrared doesn't harm the human eye.
Our SIFVEIN-6.1 (Without Stand):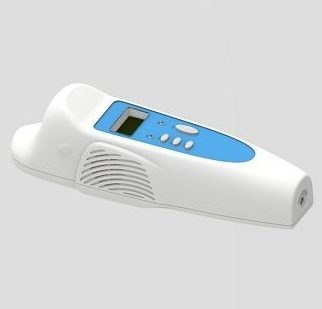 Features:
Three kinds of imaging modes: basic mode, green light mode and depth detection mode. One-click switching modes freely. Medical cold light, safe for your eyes.
It can detect up 80% invisible veins with our enhanced imaging processing unit by patented infrared light technology, displaying vivid vein map on the surface of skin.
Image performance optimization with high occurrence, adjustable brightness. Widest opening for easier access.
Handheld Vein Finder Device with Enhanced Base and Tabletop Stand. Easy Operation. Portable handheld & Detachable tabletop. Elegant design, easy to carry.
Widely used in clinic transfusion Center, beauty center, plastic surgery, Infusion, Blood test center, MEC, hospitals for doctor surgical operation, nurses IV Phlebotomy, Phlebotomists, Students practice etc. Especially suitable for infant, children, obesity patients, people with Dark skin or hairy skin on the face, forehead, hands, backs, arms, legs, face.
       Vein Viewer SIFVEIN-6.1:
Basic function.
Dual power supply.
Low-power design, battery lasting up to 4.5 hour.
Easy to operate.
Easy to carry.
Vascular depth with pseudo-color 3D display.
Advanced image processing algorithms.
Projection color, size, brightness adjustment.
Application people: infant, dark skin, plastic surgery, obesity…
The scope of application: For medical units to observe and find subcutaneous shallow blood vessels, play a supplementary puncture use. The human body can be applied throughout the body.
Applicable departments: Pediatric, emergency, injection, inpatient, cosmetic surgery (micro-plastic).
Clinical Benefits Of Pseudo-3D Image.
Helps quickly find the best injection point.
More effective filtering of pseudo-vascular information, because the deeper the vessels, the darker the color of the image, the more shallow the blood vessels, the more vivid the image color. (Red circle in below photo means the best injection point).
       Specifications:
Display projection: +OLED.
Host weight (kg): 0.5.
Light source: infrared.
Peak weave length (nm): 940±15nm.
Radiation: No.
Projection accuracy(mm): ≤0.3mm.
Image resolution (pixel); 640*480.
Projection brightness(lumens): 5-10 lumens.
Best projection distance(cm): 23cm±3cm.
Mode: 4*4*3 color*brightness*size.
Vein Depth: YES(Pseudo-color 3D technology).
Power: AC+battery.
Battery working time (h): 4.5
Battery charging time(h): 3.
Handle ability: YES.
Angle flexibility: All angle; 4 degrees of freedom.
Dimension (L*W*H:cm): 23.5*6.6*7cm.
      Wide Application of Vein viewer SIFVEIN-6.1:
Dark Skin.
Hairy S kin.
Baby or kids.
Obesity people.
Plastic Surgery.

       Certification:
CE.
ISO.
Portable Vein viewer SIFVEIN-6.1 Transilluminator Vein Locator Detector.
User Manual.
12 Months warranty.