It may be easy to drink water, but according to the latest research, 95.3% of people do not have good water consumption habits—65.9% drink water only when thirsty, while only 4.7% regularly drink healthy amounts of water. Although water deficiency causes poor health and various diseases, we still always forget to drink enough. Water is essential to leading a healthy life, so we invented SIFIT-11.1, a smart bottle that helps you subconsciously form healthier habits.
SIFSOF presents you the Newest  high-tech bottle SIFIT-11.1 FDA approved -which will come in three sizes and 12 colors upon launch – that tracks your daily hydration habits and uploads real-time data to an app or other smart fitness device where you can check your progress. Users can receive scientific feedback while managing their hydration plan in our app.

Healthy habit
SIFIT-11.1 tracks your water consumption and reminds you when you need to drink more water. Over time, these reminders will help you build healthy hydration habits.
Complete Health Data
SIFIT-11.1 records your water consumption to construct a complete health profile with other health data like exercise, sleep, and body weight.
Drink safely and confortably
SIFIT-11.1 warns you of dangerously high water temperatures and when the water becomes stale. Our smart bottle will make the experience of drinking water more enjoyable.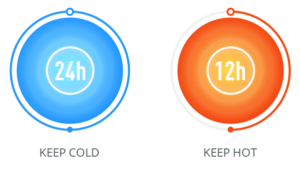 Built-in smart water consumption algorithms compute your body's hydration needs according to water intake, body composition, daily activity level, and outside temperature. With this information, SIFIT-11.1 will custom design a water intake schedule that meets your individual needs. Through small vibrations and the LED display, SIFIT-11.1 will remind you when you have forgotten to drink enough water
SIFIT-11.1's interactive LED touchscreen lid displays real-time water temperature when touched or opened, and displays daily water consumption when closed. The system will warn you before drinking if the water is dangerously hot or stale.
And because water can easily become stale if left in a bottle for extended periods of time. SIFIT-11.1 can track water quality and alert you if your water has become unsuitable for drinking
1*Smart Water Bottle ,   1* wireless charger
1*user manual  ,   1*packing box
5 × We plant for you five Trees  

12 Months Warranty
     
× 5 Trees planted for one purchased item
One Tree Planted is on a mission to reforest our planet and provide education, awareness and engagement on the importance of trees in our ecosystem. It also has a social impact encouraging and giving incentive to low income people to plant Trees in their Area.
Reducing carbon footprint : A mature tree absorbs an average of 48 lbs of CO2 per year.
We give you the chance to participate and be part of this nobel project. We plant Trees for you for each product you purchase from SIFSOF.
Let's re-Green our Earth together ? 
 …