Blood Ketone Meter for ketogenic diet
Blood Ketone Meter 
Description :
 Our Blood ketone Monitoring System is used to measure blood ketone
using peripheral blood or vein blood by laypersons (most of them are
affected by diabetes mellitus.) in home or by physician in hospital.
As for diabetics, the energy is shortage when the body can not use glucose normally. The decomposition of fat increases to supply energyand a large amount of ketone is produced correspondingly in the body.It would cause metabolic acidosis or serious life-threatening if much of ketone is accumulated in the body. It is very important for diabetics to test ketone in irregular-time. Not only that, some studies show that blood ketone of diabetics will be significantly increased before the rise of blood glucose levels, which may play the role of early warning for diabetes deterioration.
A small drop of blood, obtained by pricking the skin with a lancet, is placed on a disposable test strip that the meter reads and uses to calculate the
blood Ketone level. The meter then displays the level in units of mg/dl or mmol/l.
Ketone TEST:
The β-HBA, in the presence of hydroxybutyrate dehydrogenase, was
oxidized to acetoacetate with the concomitant reduction of NAD t o NADH.
The NADH was reoxidized to NAD by an electron mediator, and the
current generated was directly proportional to theβ-HBA concentration.
Insert End
Reaction Area
After 30 s, the concentrations (mmol/l) were displayed.
Operating Range:
10 to 40
Features:
-Protection from diabetic ketoacidosis
-Blood ketone monitoring: 30-second test for ketone body
-Advanced, professional, rapid, convenient and inexpensive;
-Used by the world leading bio-enzyme technology,
-better than another test methods for ketone body;
-Siphon sample injection, automatic switch-on & switch-off;
-Track display for time and date;
-Easy to operate;
-Self-test for those patients with symptom of diabetic ketoacidosis;
-Top choice for severe diabetics;
-Application of ketone test for pregnant women who are succumbed to severe vomiting.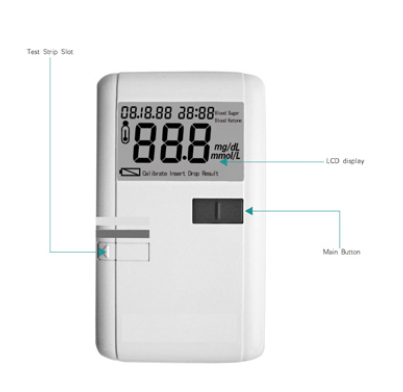 TECHNICAL SPECIFICATIONS:
Meter Storage Conditions: -40℃ to 55℃
≤93%humidity
860~1060hPa atmospheric pressure
System Operating Conditions: 10℃ to 40℃
≤80%humidity
860~1060hPa atmospheric pressure
Measuring Range (Testing Blood Keonte): 0.3mmol/L~6.0mmol/L
Memory Capacity (Testing Blood Ketone):1 blood ketone results
with time and date
Display: LCD display
Blood volume (Testing Blood Ketone): 2.5uL
Size: 96mm*55mm*17mm
Weight: 70g
Power supply: 1.5V×2DC(Type:AAALR03)
Test strip Storage Conditions: 4℃ to 30℃
≤93%humidity
Atmospheric pressure 860~1060hPa
Construction: Hand held
Protection Class: Ⅲ
Rated Operation: Continuous operation
ACCURACY: 
The recovery of D-3-hydroxybutyric acid is 80%-120%.
REPEATABILITY:
The repeatability using capillary blood with the blood ketone systems is <
0.1mmol/L SD at a level of<1.0mmol/L and <7.5% CV at a level of ≥1.0mmol/L.
Detection limit (lowest value displayed):
0.3mmol/L (3.12mg/dL) for the blood ketone test strips
WARRANTY:
– 6 years warranty : SIFSOF warrants that your  meter will be free from defects in materials
and workmanship for 6 years from the date of purchase. If during this
6-year period, the meter does not work properly because of a defect in
materials or workmanship,  will repair the meter or replace it with
ketone meter or equivalent product free of charge. The warranty of the
repaired or the replacement meter will expire on the date of the original
warranty expiration or ninety days after shipment of a replacement
system, whichever period is longer.
SIFIT-7.92 Heart rate Fitness Tracker Pedometer Android Sport
Multi function fitness activity tracker heart rate,auto tracker
Track steps,calories,distance,activity time and percentage of daily goal
Measure heart rate accurately and continously with optical sensor
Six heart rate training zones:   Rest HR,Warming Up,Fat Burning,Aerobics,Anaerobic and Strenuous Exercise
The Newest  smart bracelet ,heart rate fitness tracker SIFIT-7.92
It is an amazing wirstband pedometer by tracking your all daily life active like steps taken, distance traveled ,calories burned.
Measure heart rate,sync device data and vibration alarm and active minutes.
Also the hours of your sleeping include the deep sleeping and the light sleeping. Help you to know yourself's health situation better, and make a plan for your physical exercises so that you can have a more healthy body and happy life.
Main function
Band Waterproof Touch Screen Smart Bracelet.
| | |
| --- | --- |
| Model No. | SIFIT-7.92 |
| Chipset | Bluetooth 4.0 |
| Heart Rate | Real time continuous monitoring |
| Sleep Monitor | Auto Sleep Detection |
| Pedometer | Wlaking Distance,Steps,Calories Burned |
| Message/Call Reminder | Including What's app,Wechat,message and etc |
| Clock Alarm Mode | Silently wake up your body everyday |
Sensor
-With optical light sensor for Heart Rate measuring-Bosch 3D acceleration sensor
OLED
-Display:0.91" OLED-Hige quality OLED display with touch screen with high precise performance
Data Memory
30 days
Size
Main device: 43.2*20*11.3mmBand:240*19mm
Material
-PC for main device and charger-Silicon for the wristband

–Band buckle:Zinc alloy

Battery
70mAh Rechargeable lithium polymer battery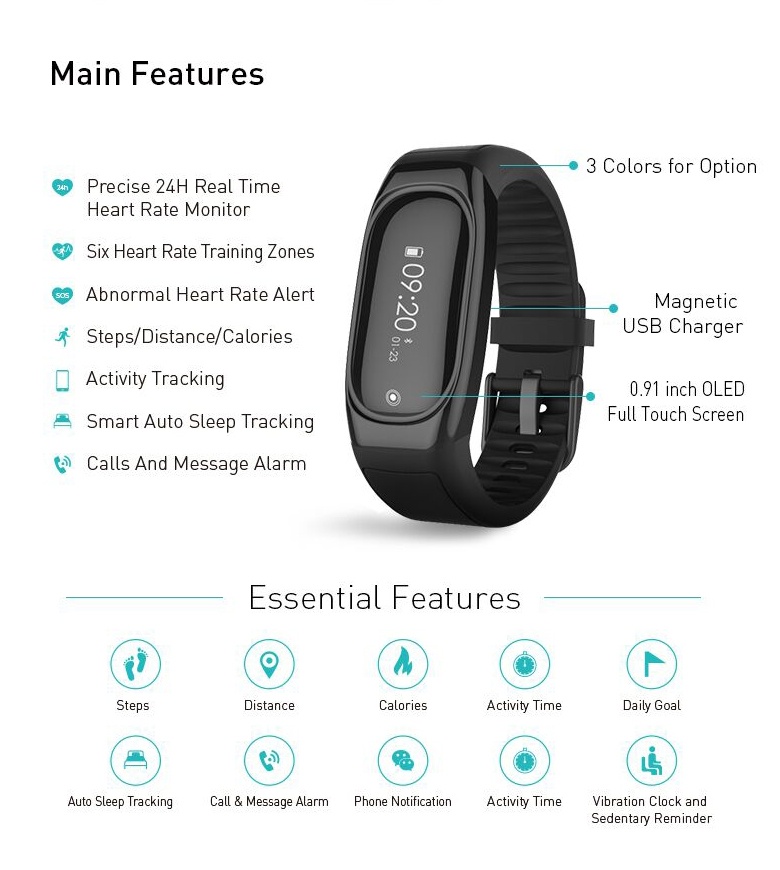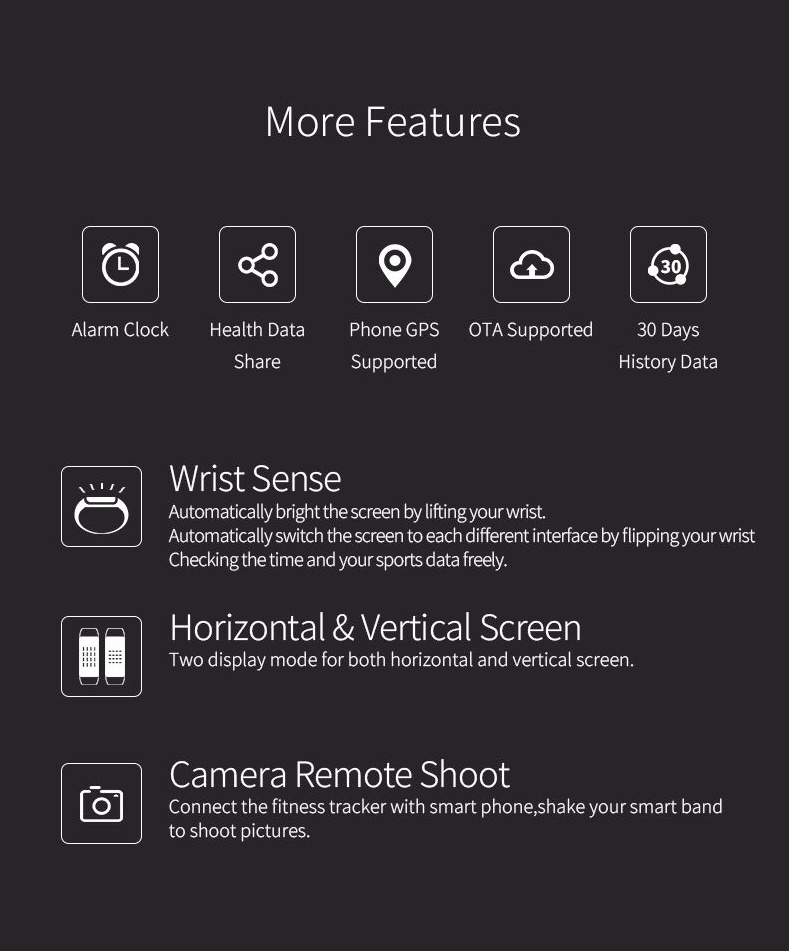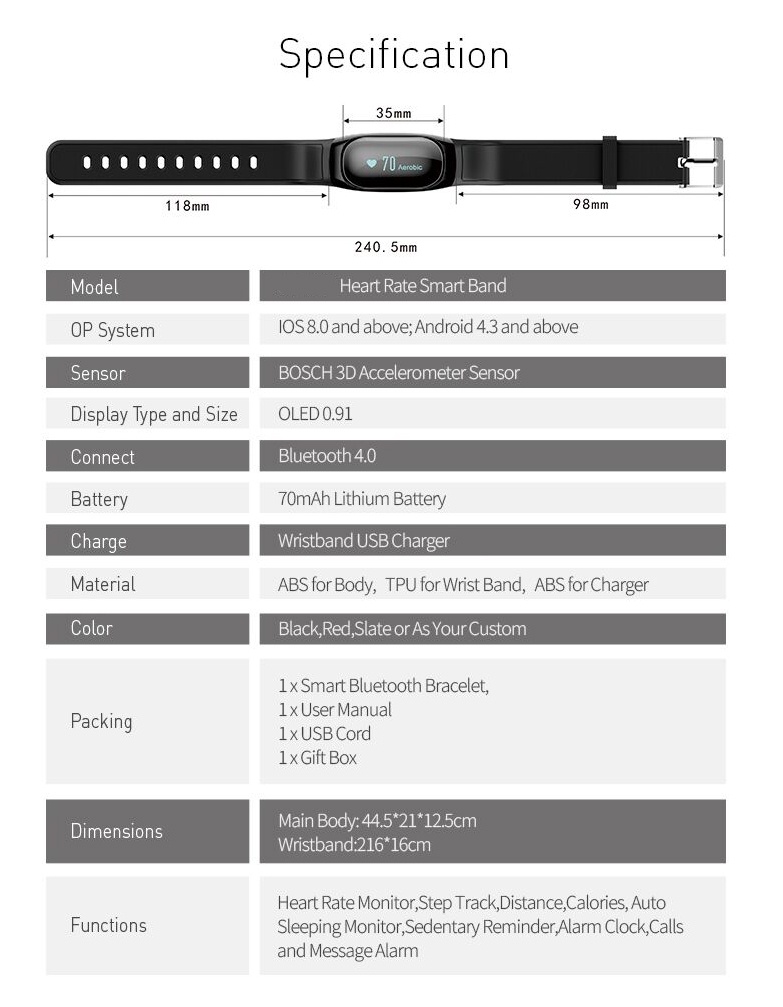 Bluetooth Body Weighing  Scale 6 in 1
Bluetooth Weight Scale 6 in 1 :
Body Fat Scale / Measures BMI / BODY FAT / WATER / BONE / MUSCLE
Specifications:
High precision strain gauge sensors system
Tempered glass platform:280x280x6mm
Capacity:180kg/100g(Unit:kg lb)
Large LCD size:72x30mm
Step on the scale to weight, no await
Auto zero-off function
6 in 1 function: weight, fat, water, muscle, bone and calorie
Over load indication/Low battery indication
Power supply by 2pcs AAA batteries
Product size:280X280X21mm
Gift box size:308X302X35mm
N.W.:6.0kgs    G.W.:7.0kgs
1×20'GP:7365pcs,1×40'GP:14210pcs
Certifications:
RoHS, REACH, CE, FCC, BQB