SIFULTRAS-8.21 Color Doppler Ultrasound Scanner, Ophthalmic A-Scan
April 28, 2018
Color Doppler Ultrasound Scanner PW linear 128E 5-10Mhz SIFULTRAS-3.21
May 7, 2018
Description
SIFULTRAS-8.22 Color Doppler Ultrasound Scanner  Ophthalmic Phachymetry ScanUltrasound Scanner Ophthalmic Pachymeter with macular recognition function, can accurately measure axial length, anterior chamber depth, lens thickness, as well as intra-ocular lens calculation.
And also with the central area and the peripheral areas gain automatic compensation capability, accurate measurement of central and peripheral corneal thickness, is widely used in the preoperative examination and postoperative effect evaluation of refractive surgery.
 Ophthalmic Phachymetry Scan 
Resolution: 5um
Measuring range: 150um~1500um
Display: SINGLE mode and MAP mode
Can display ultrasound waveform when measuring
Each group is the average of 20 measurements
Switch between IOP measured value and actual value
Can input name, ID and operator's name
Others:
Large color liquid-crystal screen
Touch screen input, easy operation
Curve freezing: Manual/Auto mode, controlled by pedal
Built-in speed thermal printer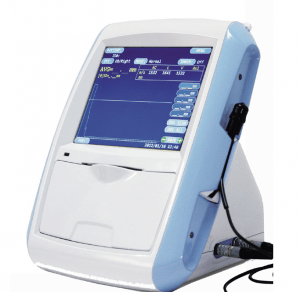 Technical Specifications:
Compact Body, Light Weight.

Friendly LCD Touch Screen.

Contact and Immersion Modes.

Multiple IOL Power Calculation.

Build-in Thermal Printer.

Capable of Connecting to PC.

Optional Workstation on PC.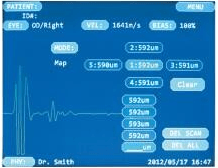 Pachymeter:
20MHz Frequency Probe
125-1000 microns Range
Clinical Accuracy: <10microns
>Certifications 
CE
ISO13485
This product is not to be used in  THE US .