Wireless Mini-Linear Ultrasound Scanner SIFULTRAS-3.54 Color Doppler
The Linear Ultrasound Scanner SIFULTRAS-3.54 has a smaller footprint than the average linear probe. This transducer is perfectly suitable to aid the physician. It doesn't only serve as a diagnostic tool but also as a guide for procedure. Procedures such as; PICC, IV, nerve block, midline, insertion of catheters…
The Wireless Ultrasound Probe SIFULTRAS-3.54 has a 5-14 MHz Frequency range. Allowing the user to control the depth and assess the depth of the needle. Making these medical procedures simpler. Increasing the efficiency.  And patients satisfaction.
As an example; thanks to its linear aperture, the Linear Ultrasound Scanner SIFULTRAS-3.54 is the instrument for venipuncture. The latter is mainly performed by anesthesiologists.
This Wireless Ultrasound Probe doesn't only allow the practitioner to confirm the course of blood flow in the vessels, But also in aligning the axes of the echo probe and the venipuncture needle. Moreover the device ensures performing slow venipuncture, and confirming the intravenous placement of the guide wire after securing blood vessels.
Beside, the SIFULTRAS-3.54 is a wireless ultrasound scanner. No more need worrying about cables. Getting them contaminated or getting tripped over them. Moreover, the SIFULTRAS-3.54 battery lasts 3 hours of continuous use. Equivalent of 90 uses.
Color Doppler Mode is needed to:
Give a visual overview of flow within the vessel or heart.
Rapid identification of vessels, valves, turbulent flow.
Evaluate flow direction and velocity.
Measure volume and percent vascularity when combined with 3D Mode.
Guidance for reproducible quantification of flow velocities using Pulsed-Wave Doppler.
Locate area of stenosis or thrombosis.
Determine the existence and amount of arterial plaques and associated turbulent flow.
Find small vessels such as mouse coronary arteries, femoral and arcuate arteries.
Evaluate blood flow after a stroke or other cases due to impaired blood flow.
Observe blood flow to major organs such as heart, kidney, liver pancreas, carotid, abdominal aorta, and others.
       Features:
Scan Feature: Electronic Linear Array.
WiFi Compatible
Frequency: 5 -14 MHz.
Scanning Depth: 12cm.
Image Adjust: Gain, Focus, Harmonic, Denoise.
Image Storage Function.
Light-Weight And Easy To Use.
      The Mini Linear Ultrasound Probe SIFULTRAS-3.54 Is Suitable For:
Radiologists.
Nephrologists.
Anesthesiologists.
Emergency Doctors.
Urologists…
       Applications:
Vascular.
Thyroid.
Mammary Gland.
Nerves.
Tendon.
Medical Interventions.
       Specifications:
Scanning Method: Linear Array.
Supports: Android.
Language: Chinese/ English.
Image Mode: B, M, Color.
Number Of Elements: 128 E.
Display Mode: B, B/M, C, B+B.
Frequency: 5 – 14 MHz.
Power: Built In Lithium Battery.
Max Depth: 12 cm.
Measurement: DIstance, Perimeter, Area And Advanced Private Measurement Package.
Interface: Micro-USB.
Battery Life: 6 Hours.
Net Weight: 280g.
Scan Result: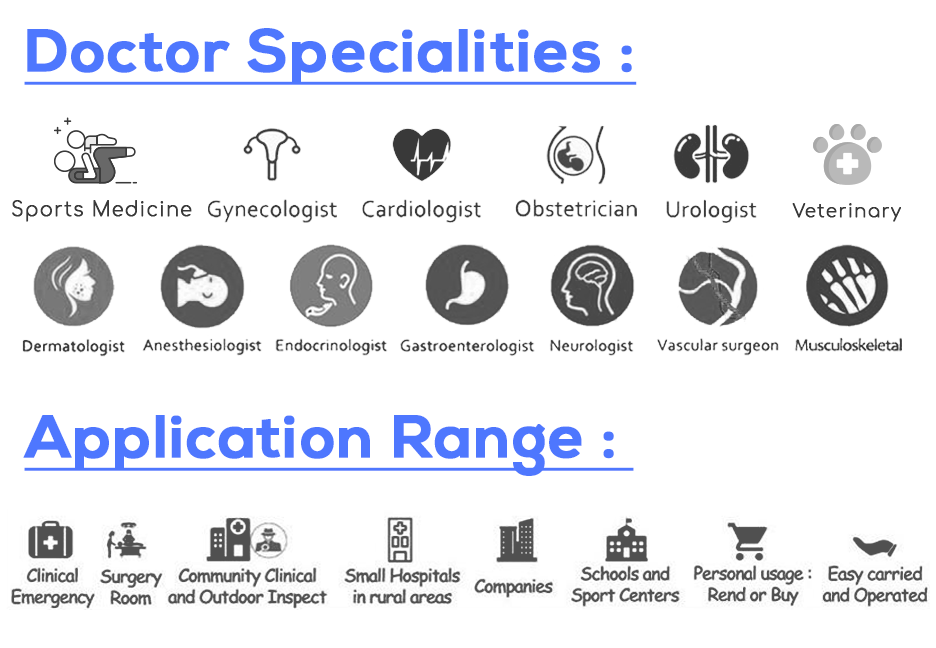 Certifications:
CE.
ISO13485.
This product is not to be used in the US.
Wireless Mini-Linear Ultrasound Scanner SIFULTRAS-3.54 128 Elements.
12 Months Warranty.
10 × We plant for you ten Trees



× 10 Trees planted for one purchased item
One Tree Planted is a movement, on a mission to reforest our planet, provide education, raise awareness and engagement on the importance of trees in our ecosystem. Above all it has a social impact. Encouraging and giving incentive to low income people to plant Trees in their Area.
Reducing carbon footprint : A mature tree absorbs an average of 48 lbs of CO2 per year.
We give you the chance to participate and be part of this noble project. We plant Trees for you for each product you purchase from SIFSOF.
Let's re-Green our Earth together!  
 …